Sixth form students from Stanwell Comprehensive School have been applauded by the Welsh Blood Service for their outstanding effort towards blood donation after more than 60 students rolled up their sleeves to give blood this term.
Speaking of the success, Julie Anthony, a school teacher from Stanwell said: "We could not be more proud of how our students have helped those in need across Wales.
"Since the first clinic in 2015, our students have made over 400 donations. Each blood donation can save up to three lives, so it's amazing to know that in just two years the sixth formers at Stanwell have potentially helped save the lives of 1,200 people living in Wales."
Student Alexander Whitfield, who donated for the first time at the recent session, said: "Giving blood was a surprisingly sociable experience, with a supportive and positive atmosphere which prevented any previous fears.
"The experience offered a change to the common routine of the day and was a new experience which not only was relaxing and enjoyable but also helped people in need at no cost to myself."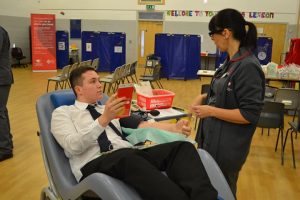 Jonathan Ellis, Head of Donor Engagement at the Welsh Blood Service, spoke about the incredible support from the school; "We would like to thank the staff at Stanwell for providing their students with the opportunity to become the next generation of donors in Wales.
"They have shown great community spirit by giving an hour of their time to donate blood. We hope that this fantastic achievement will encourage more students and schools to consider donating blood in the future."
Only three percent of the eligible population in Wales currently give blood, and the service is in particular need of young donors to give regularly to secure the future supply of blood donations.
To enrol as a blood donor or to find a local donation session, visit welsh-blood.org.uk or call 0800 252266.