One of Carmarthen's longest serving blood donors is calling on locals to start giving blood after being recognised by the Welsh Blood Service for making 100 donations.
Gwyn Jones, a 70 year-old from White Mill, has been donating for over 50 years, making his first donation back in the 1960s. As each donation can save up to three lives, Gwyn's dedication could have helped over 300 patients.
Blood donations can be used to help support patients in need across the country, from emergency situations such as serious accidents and childbirth complications to supporting cancer patients during chemotherapy treatment.
Speaking at the donor recognition event celebrating local milestone donors, Gwyn said: My blood donation journey started aged 17 whilst working as an apprentice at a local mechanics. After donating with colleagues for the first time, I have continued to do so, making a total of 102 donations… to date!
"Receiving this award to mark my 100th blood donation is like receiving a cap for Wales – I couldn't be prouder to support those in need across the country.

"The staff have always made me feel welcome each time I attend my local clinic. There's nothing to it, and there's always a feel good element afterwards – aided by a cup of tea and biscuit!
"Only three percent of the eligible population donate, if you're young, fit and healthy, make the leap and go along and give it a try."
In addition to blood and platelet donations, two individuals received an award for giving their bone marrow, after being selected as the best 'match' for a patient in need of a transplant from a database of more than 35 million donors across the globe.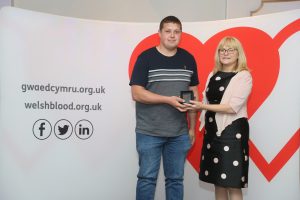 Owen Jones, 30 of Llandysul, signed up to the Welsh Bone Marrow Donor Registry nine years ago whilst giving blood: "I joined the bone marrow register  while giving blood and it was pretty straightforward. When I signed up, I didn't think that they would ever choose me.
"It was a huge reality check when I received a call years later to say that I may be a lifesaving tissue match for a patient in need, but there was no doubt in my mind and I didn't hesitate to say yes!
"Before I knew it, I had made my potentially lifesaving bone marrow donation.
"If you are between 17-30 and fit and well, try to go and give blood if you can, and while you're at it, join the bone marrow register. My gran received 14 units of blood during to support her treatment for cancer, and this would not have been possible if it were not for the donors of Wales."
Gwyn and Owen were two of 59 milestone donors, recognised for their commitment to the Welsh Blood Service. The attendees had collectively made 3,427 donations which could have saved up to 10,427 lives.
The Welsh Blood Service needs to collect 350 blood donations every single day to supply hospitals with blood for patients in need. The Service relies entirely on the generosity of donors coming forward to save lives across Wales.
To start your lifesaving journey, click here or call 0800 252 266.