A Bassaleg woman, who is one of Wales' longest serving blood donors, is encouraging local residents to "give it a go" after being recognised by the Welsh Blood Service for reaching 100 blood donations, a milestone that has taken her 59 years to achieve.
Jeanne Butcher, 71, was one of four local donors that were recognised at a recent awards ceremony for reaching the 100 donation milestone. Commenting at the event, Jeanne, a retired NHS clerical assistant, said:
"I was encouraged by a colleague to attend my first blood donation clinic back in 1965 when I was 18 and working in Newport. I've donated regularly ever since.
"I have a very simple philosophy – I would be more than happy to receive a blood donation if I was in need so I am only too pleased to give for as long as I am able.
"The Welsh Blood Service staff look after you so well. They are calm, friendly and professional – there is nothing to fear. I believe anyone who is fit and able should become a donor if they can. Once you have got over the anxiety of making your first donation you will see there is really nothing to it so why not give it a go!"
Alongside the 100 donation donors, 65 milestone blood, platelet and bone marrow donors we recognised for their commitment to helping patients in need. Collectively, the awardees hade made over 4,700 donations, enough to potentially save or improve over 11,300 lives.
Alan Prosser, Interim Director of the Welsh Blood Service, said:
"It is important we recognise and give thanks to the donors of Wales who have been so committed to saving people's lives by donating blood, platelets and bone marrow. Giving blood is a unique opportunity to really make a difference to patients in need.
"While our award evenings recognise milestone donors, every single donation we receive really makes a difference to patients' lives. Just one blood donation can actually help three patients as the blood is separated into its components: red cells, platelets and plasma.
"For those who have shown an interest in giving blood, now is a great time to try and support the growing community of lifesaving donors."
Blood transfusions are vital in supporting patients in need across the country; from emergency situations such as serious accidents and childbirth complications to supporting cancer patients during chemotherapy treatment.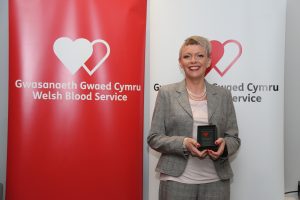 Anna Sadzik, a mental health support worker from Pontypridd, was also recognised at the awards evening for her bone marrow donation. Anna was chosen from a database of over 35 million donors across the globe as the best match for a patient in need of a transplant.
Anna said: "I used to donate whole blood regularly but my veins were very small making it difficult for me to continue. I asked a member of the Welsh Blood Service what else I could do and they explained the bone marrow donation process to me so I decided to sign up.
"When I was told I was a match I couldn't stop crying because I was so happy I was able to help someone in need. My donation recipient was a 31 year old male from the Czech Republic suffering from a type of cancer called myelodysplastic syndrome which means your red cells don't mature fully, so I really was his last chance of survival.
"I would encourage anyone who is aged 17-30 who gives blood to join the Welsh Bone Marrow Donation Registry. You can bring hope to someone and their family and I wouldn't hesitate to do it again."
Nine platelet donors were also recognised on the night, including Cardiff resident, Gerald Campbell, 61. Gerald had made a staggering 500 platelet donations. Speaking about his experience, Gerald said:
"I made my first whole blood donation in 1991 and after 29 blood donations I decided to become a platelet donor. The great thing with platelet donations is that you can make them more frequently – every three weeks.
"Generally platelet donations are in greater demand than whole blood because they have a shorter shelf life of just seven days. The process is longer than giving blood but it is just as easy. Anyone considering donating platelets should have a go, you never know when you or someone in your family might need it."
The Welsh Blood Service needs to collect 350 blood donations every single day to supply hospitals with blood for patients living across Wales who are in need. The service relies entirely on the generosity of donors coming forward to change lives.
It is now easier than ever to make an appointment. To start your lifesaving journey, visit: welshblood.org.uk or call 0800 252 266.