A SWANSEA woman who is one of Wales' longest serving blood donors is calling on local  residents to start giving blood, after celebrating her 100th blood donation.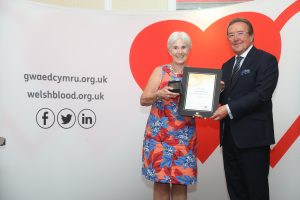 Marian Williams, a 62 year-old from Killay, has seen how life changing a donation can be when her father started received regular blood transfusions after being diagnosed with blood cancer.
Starting her journey over forty years ago while at college, Marian gave blood for the first time in the 1970s and is now encouraging others to book their first donation.
Blood transfusions are vital in supporting patients in need across the country, from emergency situations such as serious accidents and childbirth complications to supporting cancer patients during chemotherapy treatment.
Marian was one of 84 donors celebrated at an awards ceremony held by the Welsh Blood Service. The special evening was also complemented by the attendance of Her Majesty's Lord Lieutenant of West Glamorgan, Byron Lewis.
Speaking at the event in Swansea, Marian said: "Giving blood is second nature to me now. I have just reached 100 donations, and I already plan on reaching my 150th!
 "I made my first donation while at college with friends, and have continued to do so over the years.
"Blood donation is something that has always been important to my family. My mother received blood when I was born, and later in life, my father had Multiple Myeloma, a form of blood cancer and required blood each week.

"Not many people know that blood donations also help patients during treatment for some cancers.
 "The service has changed since I first donated back in 1977, but I have always been able to donate regularly, at a clinic in the local area. It's now easier than ever to make an appointment – I have just booked my next donation online!"
One blood donation could help save the lives of up to three patients as each donation can be separated into three components: red cells, platelets and plasma. Marian's dedication to giving blood to date could have helped save and improve the lives of over 300 patients in Wales.
Marian continued: "I have blood donors to thank for the precious extra time we were able to spend together as a family.
"You too could save lives by making the decision today to donate."
The celebratory evening recognised milestone blood, platelet and bone marrow donors. The attendees had collectively made 5,231 donations which could have saved up to 14,981 lives.
Six individuals received an award for donating their bone marrow, after being selected as the best 'match' for a patient in need of a transplant from a database of more than 35 million donors across the globe.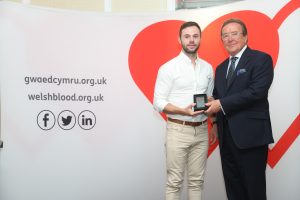 Engineer Tom Hunt, 28 of Aberavon, joined the Welsh Bone Marrow Donor Registry at a blood donation clinic at his work:  "I must have given blood two or three times before joining the bone marrow register.
"I decided to sign up as it was another way for me to potentially save a life, and after a few questions from the nurse and a small sample of blood taken when I was donating, I had been registered!
"Years later, while at work I had the call to say I had been chosen as a potential match, and was asked if I would still like to donate my stem cells.

"It was a surreal moment, but I did not hesitate to say yes.

"Thanks to the support received from colleagues, family, friends and the staff at the registry; I made my potentially lifesaving stem cell donation.
"Giving blood saves lives and if you are 17-30, you could potentially be the only person in the world capable of helping someone with blood cancer."
The Welsh Blood Service needs to collect 350 blood donations every single day to supply hospitals with blood for patients in need. The Service relies entirely on the generosity of donors coming forward to change lives.
To start your lifesaving journey, click here or call 0800 252 266.