Students and staff from Stanwell School are being thanked by the Welsh Blood Service for collectively donating enough units of blood to have potentially saved more than 2000 lives.
Stanwell became the first school in Wales to host its own donation session for students and staff in 2015. The 60 donations collected at a recent blood donation session at the school took the total number of donations made by Stanwell staff and students to almost 700, enough to have potentially saved or improved more than 2,000 lives.
More than 60 Stanwell donors have also signed up to the Welsh Bone Marrow Donor Registry, a register of volunteer donors who would be prepared to donate their bone marrow if they were chosen as a match for someone in need of a transplant.
Mr Trevor Brown, head teacher at Stanwell School, said: "We didn't hesitate to sign-up back in 2015 when we were approached by the Welsh Blood Service to participate in a pilot donation clinic. We have since worked closely with the Service to further develop the programme and to support new schools as they have come on board.
"I am immensely proud of what we have achieved as a school and what the programme has achieved overall. We remain as committed now as we were when we hosted our first clinic and it is truly humbling to see how many lives we have potentially saved or improved.
"With more schools across Wales joining the programme, we will continue to inspire and encourage youngsters to support the crucial work of the Welsh Blood Service."
The Welsh Blood Service now hosts donation sessions for staff and students at eleven schools across Wales: Bryntirion Comprehensive (Bridgend), Porthcawl Comprehensive, Cowbridge Comprehensive, Monmouth Schools for Girls, alongside Monmouth School for Boys and Monmouth Comprehensive; Olchfa (Swansea); Bassaleg (Newport); Y Pant (Talbot Green) and Whitchurch High School (Cardiff).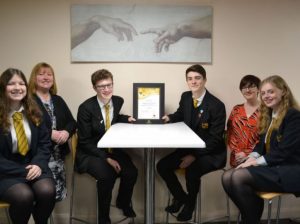 More than 1,300 donations have been taken at sixth form donation sessions to-date, enough to potentially save or improve the lives of more than 3,900 adults or 7,800 babies. More than 150 students have also signed up to the Welsh Bone Marrow Donation Registry.
Alan Prosser, Director of the Welsh Blood Service said:
"We would like to personally thank every student and member of staff of Stanwell Comprehensive School for their continued support of the programme and for working with us to engage and support new schools as they have begun their lifesaving journey with us. Their donations have selflessly contributed towards the 100,000 donations needed in Wales each year so they have shown fantastic commitment and great community spirit.
"It's essential that we pass on how important donating blood is to the younger generation. By having the support of Stanwell and the other schools we work with in Wales, we can encourage more students to try donating as part of their school day. We hope that the actions of these students will encourage more people living in Wales to consider donating in the future.
"The blood collected is not just used for accidents and emergencies; it is also used for cancer and leukaemia patients who need regular transfusions, so it's crucial we maintain a steady supply to support patients in need across the country.
"If you have never donated before, now is a great time to try."
To start your lifesaving journey today, please visit wbs.wales/schools or call 0800 252 266.