Students and staff from Y Pant School, Talbot Green, have been thanked by the Welsh Blood Service for hosting their first blood donation clinic to help patients in need across the country. The school was also joined by students from Bryn Celynnog Comprehensive School, Beddau (Pontypridd).
On the day, 61 blood donations were made, 42 of which were from donors who were giving blood for the first time. The session was held specifically for students and staff at the schools and donations from the session could potentially have saved or improved more than 180 lives.
A further 28 blood donors signed up to the Welsh Bone Marrow Donor Registry, joining a database of over 35 million donors from across the globe whose unique attributes could make them the only person in the world capable of saving the life of someone in need of a transplant.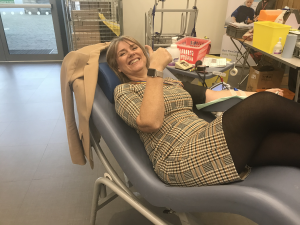 Blood donor and Headteacher of Y Pant School, Mrs Bev Cheetham, said:
 "When we were approached by the Welsh Blood Service we jumped at the chance and are absolutely delighted to now be part of the programme. As a blood donor myself I was keen to encourage students to understand the wider responsibilities they have to the community and this is a perfect way to give something back by helping patients in need. This is reflected in the number of students from Y Pant and Bryn Celynnog who stepped forward to give blood and I am immensely proud of each and every one of them.
"I would also like to take this opportunity to personally thank our Head of Sixth Form, Sara Nowell-Hughes, whose energy and commitment to this initiative has made this happen.
"Going through this process has given us all a better understanding of the difference giving blood makes. Many of us have had conversations with friends and family members and have realised that blood donation sessions like today have helped their loved ones through serious illnesses or operations. To now be part of this process has filled us with an enormous sense of pride."
After making his first donation at the comprehensive school, sixth form student, Jack, said:
"I'm so glad today I have become a blood donor, it's just a few short minutes of my time, there was no discomfort and I could have saved someone's life."
By hosting its own donation session, Y Pant became the ninth school to join a new Welsh Blood Service initiative to offer blood donation sessions at some of Wales' largest post-16 education settings.
The Rhondda Cynon Taff-based schools joined Whitchurch High School (Cardiff), Monmouth School for Girls, Monmouth Schools for Boys, Stanwell (Penarth), Bryntirion (Bridgend), Porthcawl, Cowbridge and Monmouth Comprehensive Schools, who have collectively contributed almost 1,400 blood donations.
The donations taken from staff and sixth form students at schools in Wales to-date could have potentially saved or improved the lives of more than 4,000 people. A further 180 students have also signed up to the Welsh Bone Marrow Donor Registry.
Alan Prosser, Director of Service at the Welsh Blood Service said:
"We would like to thank the students and the members of staff who have selflessly contributed towards the 100,000 donations needed in Wales each year. They have shown fantastic commitment and great community spirit.
"By having the support of some of the largest schools in Wales, we can encourage more students to try donating as part of their school day. We hope that the actions of these students will encourage more people living in Wales to consider donating in the future, whether that's at University, in the workplace or at one of our community donation sessions.
"If you have never donated before, now is a great time to try."
To start your lifesaving journey today, please visit wbs.wales/schools or call 0800 252 266.