Wrexham AFC skipper and blood donor Shaun Pearson is leading the charge to encourage club fans and local residents to start donating blood.
After sharing a message alongside team mate Paul Rutherford urging people to put their lockdown time to good use by giving blood, Pearson signed himself up to donate at the Parish Hall in Chirk on 29 April 2020.
The video message recorded by Pearson and Rutherford suggested fans of the North Wales outfit should use this football-free time to support patients in need and the NHS by giving blood through the Welsh Blood Service.
Pearson was joined at the session by over 60 fellow donors who had come out to make a donation that could save or improve up to three lives.
Despite the pandemic, blood donations are still needed by hospitals across Wales to treat patients with a range of conditions, including mothers and babies during childbirth; cancer patients receiving chemotherapy as part of their treatment; and patients involved in emergency situations.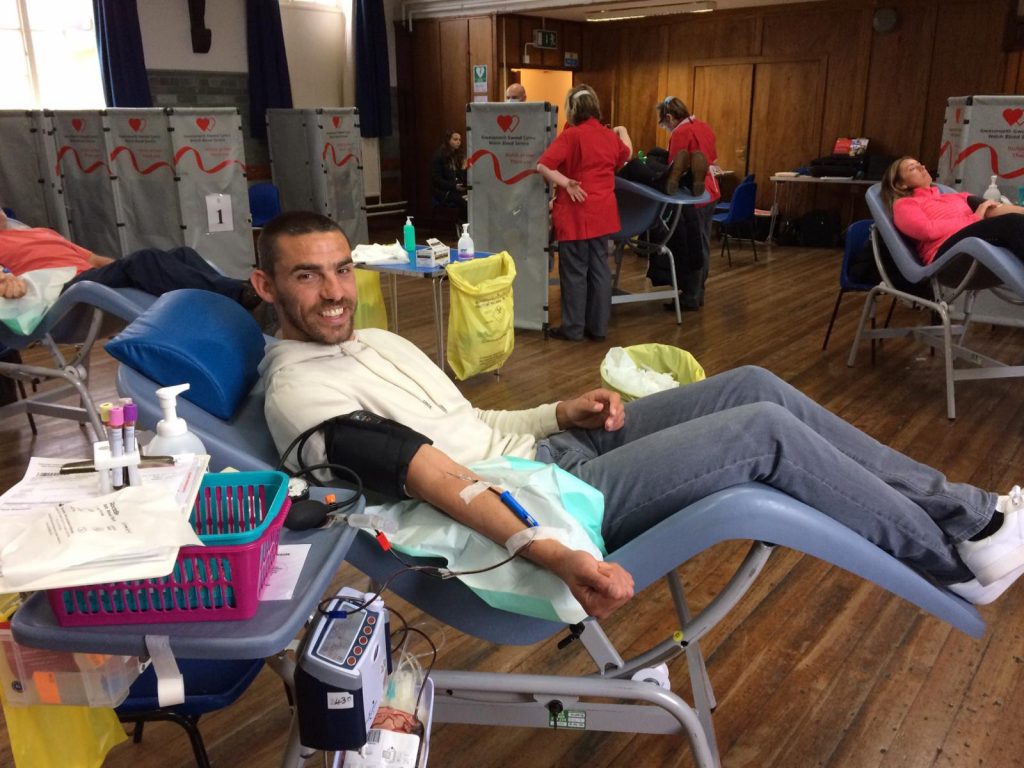 Dean Keates, Wrexham AFC manager, said:
"Thank you to everyone who was able to donate at the recent sessions. I would urge all supporters to see if they too can also back this appeal.

"It's another great way of contributing and helping those who are going above and beyond to help us by keeping the stocks of vital blood supplies at a working level.

"It's our turn to support the NHS in any way we can.

"Your donations are still needed every day to save and improve lives."
Thanks to support from new and existing donors, blood stock levels in wales are currently in a healthy position. However, donors are being urged to attend their local donation session to ensure stocks remain sufficient to meet hospital demands.
Additional measures have been put in place during the pandemic at every blood donation session to make the experience as safe as possible for donors including:
all donors and staff are asked additional questions upon arrival regarding covid-19;
social distancing measures have been introduced throughout the donation process as well as a reduction in the number of donors on session at any one time; and,
personal protective equipment (PPE) has been provided for staff.
Alan Prosser, Director of the Welsh Blood Service, said:
"We've always received fantastic support from Wrexham AFC and their fans and we are thrilled to add Dean, Shaun and Paul to our list of supporters.

"Blood donation is considered essential travel so if you've never given blood before and you are not currently self-isolating under the latest Government guidance for covid-19, please consider taking the time to book an appointment to donate."

"For people living in Wrexham we still have many upcoming opportunities for people to donate in Wrexham, Chirk, Saltney, Buckley and Mancot.
If you are aged 17-65, you can find and book your first blood donation session by clicking here.